Don't delay! Register to vote; apply for a mail-in ballot; and return your voted ballot as soon as possible.
Voter Registration | Voter ID Requirements | Voter ID Law | Voter Information 

Voter Registration
To vote, you must be registered. To register, you must meet these requirements:
Be 18 years old by Election Day.
Be a United States citizen for at least one month before the election
Have lived in your election district for at least 30 days before the election day Submit registration form 30 days before the election
Find more facts about voting at VotesPA.
Online Registration
You may register online at VotesPA.
In person Registration
You may register at the Bucks County Board of Elections Office in Doylestown.
PennDot: with your application for a motor vehicle driver's license
Other state offices such as: Public Assistance Offices, Marriage License Bureaus, Orphan's Court, and Armed Forces Recruitment Centers.
Some rules apply at these state offices:
Employees may help an applicant fill out the form but they cannot influence political party preference or display partisan allegiance
Employees may not discourage registration or alter benefits or imply that benefits will be altered by registration.
Where the application is made may not be disclosed to the public.
Applications must be forwarded promptly to election commissions.
You stay registered even if you haven't voted recently. An elector may not be removed from the registration rolls except:
By request of the elector.
Upon death of the elector.
Upon confirmation that he has moved outside the county.
Upon determination of a valid voter removal program.
You need to re-register if:

You should re-register if:

You have moved, or
You want to change your party affiliation, or
There is a mix-up in your registration and you needed a court order to vote in the last election

You have changed your name
You changed your address but still live in the same election district.
Voter ID Requirements
You do NOT need photo ID to vote.
However, if you are voting for the first time at your polling place, you WILL need to show some form of ID, although it does NOT have to be a government or state institution issued Photo ID. Student, employee IDs, for example, are acceptable and do NOT have to have an expiration date.
For those voting for the FIRST TIME, the following table lists tthe acceptable forms of Photo ID and Non-Photo ID.
Accepted forms of PHOTO ID:

Accepted NON-PHOTO IDs:

(must list your name and current address)

PA driver's license or other ID card issued by PennDOT
ID issued by a PA or U.S. agency
U.S. passport
Military ID
Student ID
Employee ID

Voter registration card
Recent utility bill
Recent bank statement
Gun permit
Recent paycheck
ID issued by a PA or U.S. agency
Voter information
To Check Your Registration Status, Find Your Polling Place, or See What's on Your Ballot go to Vote411.org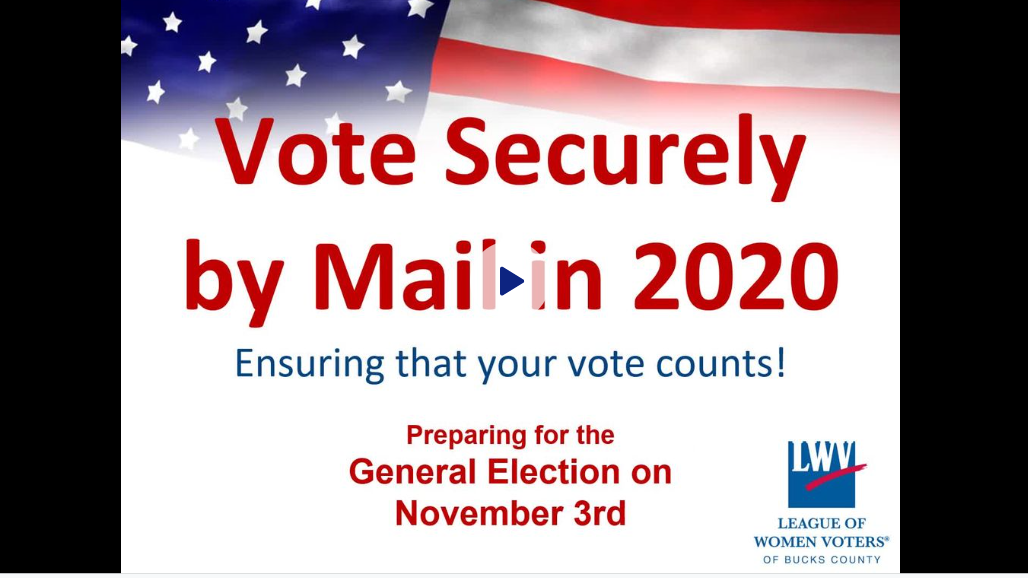 Mail-in ballots are now available for all Pennsylvania voters. Apply now at the Official Pennsylvania Government website, www.VOTESPA.COM. Voters can provide an email address and will be able to track the process of the ballot, both when it is mailed to you and after you mail it back. (A ballot will be mailed out to you once they are finalized and printed, closer to election day). Voters will need to request a mail-in ballot again, even if they requested one for the primary election, unless they requested permanent mail-in ballot status. If uncertain, go to  PA Voter Services   and use the Election Ballot Status link. If you DID request permanent mail-in ballot status, it will show a "pending" status if the ballot is in process. If you did NOT request permanent status and need to apply for a mail-in ballot again, it will say "We are unable to match your information with our records."
Overseas Voting information can be found at Overseas Vote Foundation.